Product Description
How To Get a Robot Lawn Mower Serviced or Repaired

AutoLawnMow takes care of everything for you when it comes to requiring a winter service or repair for your Robot lawn mower. AutoLawnMow has agreements in place with most major European courier companies meaning we can collect your robot direct from your door to our workshop and Back within a few days at very competitive prices.

Garden Robot Lawn Mowers Repairs
To Book a service or repair simply visit any AutoLawnMow website and select the SERVICE REQUEST button from the main menu. Fill in your details and an AutoLawnMow technician will take care of everything for you. A courier will call to your home and collect your robot and return it to AutoLawnMow within 1-2 days from anywhere in Europe.

Once your robot mower arrives into our workshop our Technicians will examine your robot and email you a report with the repair or service costs. AutoLawnMow will issue to you via email an invoice which can be paid via PayPal or any major debit or credit card. Once payment is received your robot will be serviced or repaired and returned to you within days via Courier.

AutoLawnMow after sales and service makes it easy for our customers to have their robot lawn mowers serviced and back mowing within days. Unlike traditional lawn mower servicing this style of service makes maintaining your robot lawn mower easy. Collected direct from your door and returned to your door.

Our Technician's Are Trained Experts

Inside Your Robot Lawn Mower

Door to Door Service and Repair

AutoLawnMow carries a large amount of spare parts for most major brand robot lawn mowers. We can repair and service most robot lawn mowers. If you are not an AutoLawnMow customer and wish to have your robot lawn mower serviced by top trained expert robotic lawn mower technicians the select the Service Request button and simply fill in your details and our workshop will contact you within 24 hrs.

All service and repair work is guaranteed and backed by ten years of knowledge and experience. If you have any questions please feel free to email us.

If you are confident with how your robot lawn mower works then you can easily order your repair parts, allowing you carry out your own repairs or servicing. AutoLawnMow also provide a vault of repair and service video tutorials online to guide you when doing DIY repairs with your robot.

Hobot-188 Works as below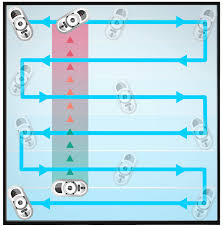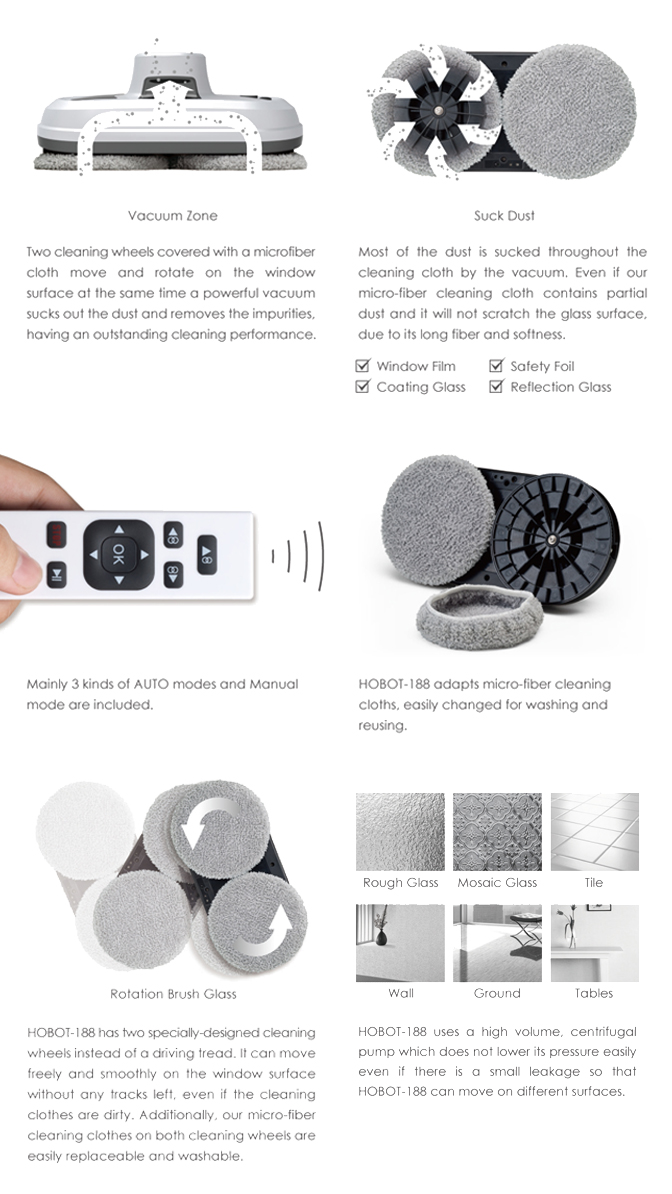 Reproducing its rotary movement, the microfiber pads effectively scrub the glass surface and electrifying the dust micro particles to loosen them from the wall. Two cleaning wheels covered with a microfiber cloth move and rotate on the window surface at the same time a powerful vacuum sucks out the dust and removes the impurities, having an outstanding cleaning performance.

The E.ZIVAC ™ particles extractor for an in-depth cleaning.
Once caught in the microfiber, the dust particles are blasted out of the hobot unit via its motor/ E.ZIVAC ™ patented extractor. The Hobot 188 multi-surface cleaning robot pads become less saturated with dirty dust allowing even greater results every time. The Hobot 188 model will continue to take off and absorb all particles throughout its work cycle.
To increase the degreasing performance of your windows – fingerprints, pollution etc – you can use
Hobot with a cleaning solution must be sprayed only onto the glass or surface prior to cleaning. The
suction power of the extractor E.ZIVAC ™ will immediately dry droplets of solution and support, as
you would with a manual cleaner.
The Hobot-188 Multi-Surface Cleaning Robot Passes 2 x times at the same spot to ensure and accentuate its cleaning efficiency: The Hobot 188 also has a method of exclusive and patented movement. The first passage absorbs the majority of dirt located on the surface. During its 2nd passage, it completes cleaning by capturing the remaining dust.
Best method of navigation to ensure coverage of 99.9%: No matter where it starts its cycle, it guarantees coverage of 99.9% of the surface. At each start of the hobot it rises above the surface to be cleaned, and then methodically moves by double-side scan. Example, once at the bottom of a window, hobot will automatically stops and signals the end of its work cycle with a beep.